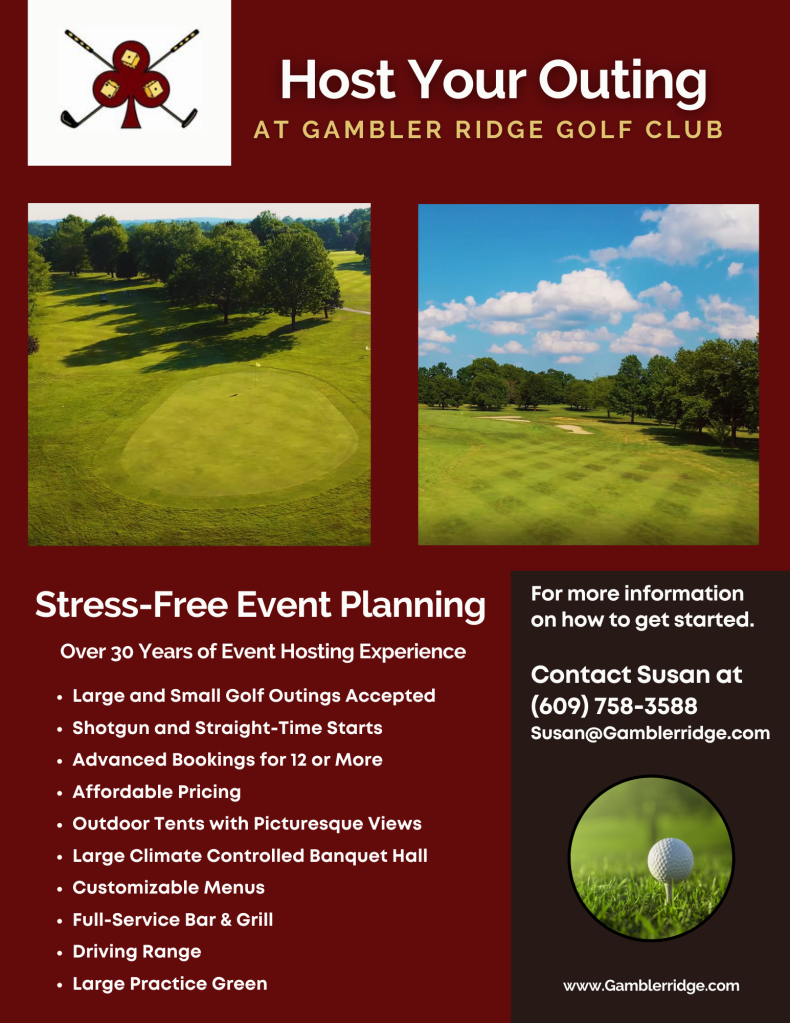 At Gambler Ridge, We Make Outings and Tournaments as Easy and Enjoyable as a 2 foot put for birdie.
When you are looking to fundraise, treat your staff or just get some friends together there is no easier, more experienced place to host your outing than Gambler Ridge Golf Club. We handle over 100 events at our golf course each year and yet we are able to customize to your needs and make your event, YOUR event.
Gambler Ridge's team has over 35 combined years of experience, and specifically specializes in making sure that your event turns out beyond your expectations.
And remember this is an ideal and easy-to-reach location for players coming from New York City, Philadelphia and most anywhere in New Jersey.
Before your event, we will discuss your needs and make suggestions to help you maximize your intentions. From food, drinks and golf we will have everything ready to go when you have it scheduled.
Golfers need great food, and we make sure that your golfers will be satisfied. We can do anything from barbecues to prime rib. We can customize the menu to suit you, your budget and appetite. We can serve your group in our banquet room and for smaller groups our pub may be the perfect fit.
We can plan outings for groups ranging from 16 to 144. We can organize morning events, afternoon events, all-day events, and just about everything in-between, and all at rates that are sensible and extremely competitive. If you need signs printed, placed or organized, we can handle that. We can assist with hole in one prize packages or just hand outs for your group.
We can organize:
Corporate/Company events – organized to run as smooth as your office.
Charity fundraisers – We understand your needs and can tailor an event to fit your budget.
Tournaments – We welcome any kind of competitive group- schools, leagues, clubs, etc.
Bachelor or Bachelorette parties
Any event you can dream up!
Our goal is the same as yours, to help have your event run smooth and successful.